Introducing InboxOS: 📥✨ The Ultimate Productivity Boost for GTD Enthusiasts! 🚀
Introducing InboxOS, the premium productivity template designed exclusively for coda.io. With InboxOS, you can revolutionize the way you manage your tasks and boost your productivity to new heights. Built on the renowned GTD (Getting Things Done) methodology, this powerful tool empowers you to take control of your workflow like never before.
🏢💪 Built on GTD (Getting Things Done)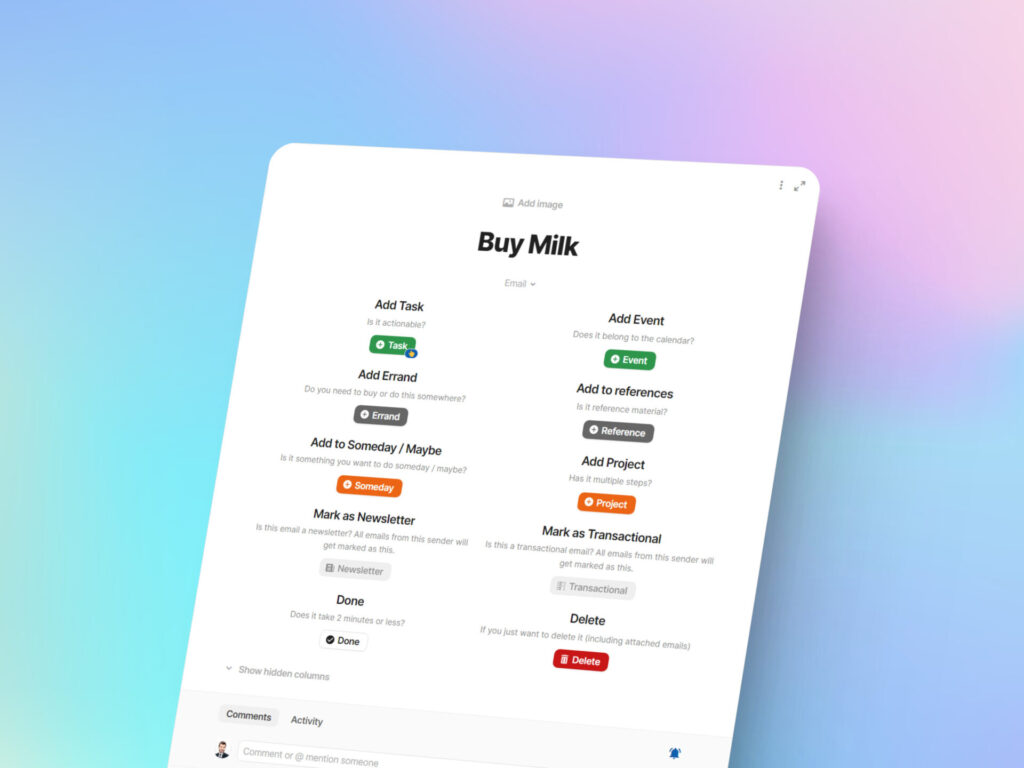 InboxOS embraces the power of the GTD methodology, streamlining your workflow and guiding you through the process of capturing, organizing, prioritizing, and completing tasks. With customizable templates tailored to suit your unique needs, you can create and manage projects, set deadlines, assign tasks, and track progress effortlessly.
Unlock the potential of InboxOS and experience a truly enhanced productivity journey. Whether you're a busy professional, an entrepreneur, or a student, InboxOS provides the tools you need to conquer your to-do list and achieve your goals. Maximize your efficiency, stay organized, and reclaim control over your workday with InboxOS, the ultimate GTD-powered doc template for Coda.io.
Unleash the power of the renowned "Getting Things Done" (GTD) methodology with InboxOS, your all-in-one productivity companion! 🎯📅
📨🗓️ Built-In Gmail and Google Calendar Support

With InboxOS, you can seamlessly sync your Gmail inbox, directly integrating your emails into the platform. Say goodbye to toggling between different apps and platforms – InboxOS brings all your essential communications and tasks together in one centralized workspace. Stay organized, prioritize tasks, and process emails effortlessly, all within the familiar Coda.io environment.
Never miss a beat with the integrated Google Calendar support. InboxOS allows you to synchronize your schedule, deadlines, and important events, ensuring you stay on top of your commitments. Seamlessly manage your calendar alongside your tasks, allowing for efficient time management and optimal productivity.
Sync your Gmail and Google Calendar seamlessly into one centralized inbox. ✉️ Stay on top of your emails and appointments without switching between tabs or missing important updates. 📆⚡️
⚒️ Simplify Your Workflow

📥💡 Tame the chaos of tasks, events, errands, and emails by gathering them in a single inbox. Clarify their nature effortlessly: task, calendar event, errand, waiting for, someday/maybe, reference, project, newsletter, or transactional email. 📋📆🗂️
🔔⌛️ Watch your tasks come to life with visual signals as due dates approach or even exceed. Never miss a deadline again! Stay focused and effortlessly prioritize your workflow. 🚦📆
📍🛒 Errand Planning Made Easy
Planning your errands? Activate the location mode, and InboxOS will intelligently display only the errands relevant to your current or desired location. Efficiently run your errands and save precious time. ⏰
💡📰✉️ Smarter email management

Are you tired of drowning in a sea of emails? Do you find yourself spending countless hours sifting through irrelevant messages, trying to locate that one important email? It's time to regain control of your inbox and revolutionize the way you manage your emails. Enter InboxOS, the game-changing solution designed to help you filter out the noise and focus on what truly matters.
With InboxOS's smart email management feature, you can bid farewell to inbox overload and reclaim your productivity. Say goodbye to the endless scrolling and searching for that crucial message buried in the depths of your inbox. InboxOS empowers you to take charge and streamline your email experience like never before.
By marking a sender as a newsletter or transactional, InboxOS intelligently categorizes their future emails accordingly. Imagine the relief of having newsletters automatically sorted into their designated folder, allowing you to browse them at your leisure without cluttering your main view. Transactional emails, on the other hand, can be effortlessly grouped together for easy access and reference when needed.

No longer will you need to spend valuable time manually organizing your inbox or setting up complex filters. InboxOS automates the process, ensuring that you receive only the most relevant emails in your main view. This intelligent filtering feature allows you to focus on the emails that require immediate attention, making your workflow more efficient and effective. 🗃️🚀
📚🗂️ Manage reference files more efficiently
Keep your important reference materials close at hand. Attach images, files, and notes to your InboxOS workspace. Our intelligent auto-archiving feature tidies your references up after all tasks, events, and projects completed. Pin essential references to keep them front and center. 📎📂
⏰🔎 Stay in Sync: Track and Follow Up on What You're Waiting for
Track what you're waiting for from others effortlessly. The Waiting For feature ensures you never forget anything you need from someone else. Stay in sync and maintain accountability with ease. ⌛️👤
🎯💪 Productivity starts at the top: Align Your Priorities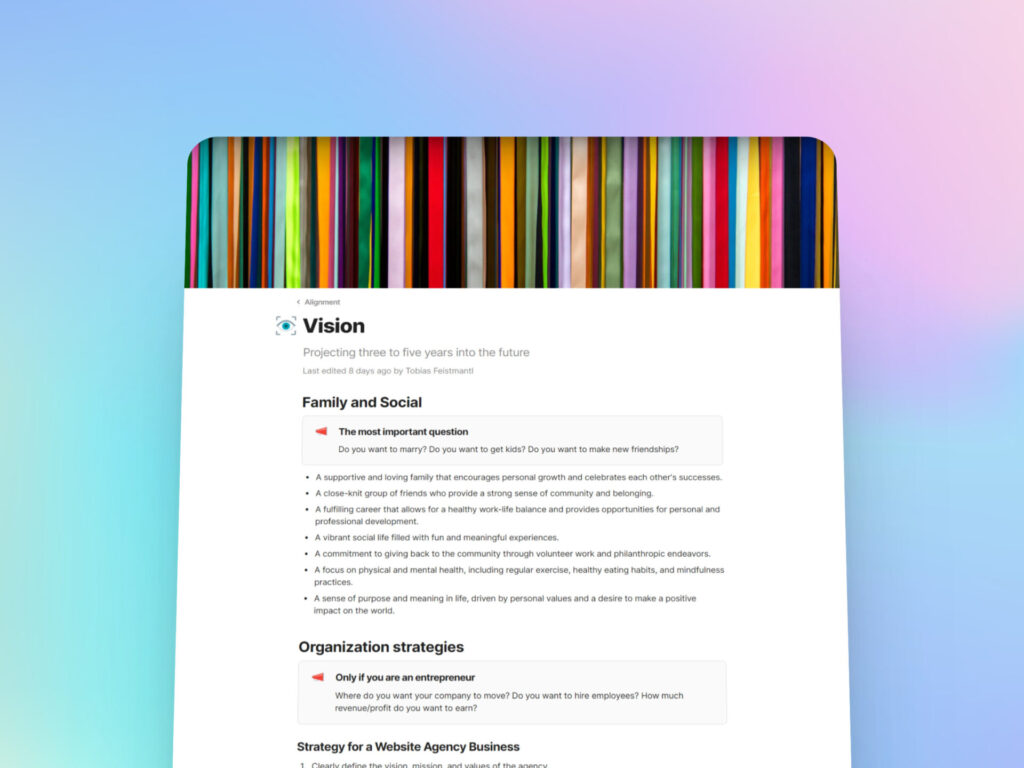 Kickstart your productivity journey in the Alignment Zone. Align your Purpose & Principles, Vision, Goals, and Focus Areas with clear guidelines and inspiring examples. Discover what truly matters to you and set your priorities straight. 💪📋
📈🔍 Effortless Review
No more jumping around between pages during your weekly review. Our dedicated Weekly Review page presents all your tasks, projects, recent or future events, and more in one convenient location. Simplify your review process and boost your efficiency.
🎨Customize Your Workspace
Customize InboxOS effortlessly with our intuitive template configuration. Tailor the notes field in tasks, calendar events, and beyond to suit your preferences and workflow. Make it truly yours, without the need for coding expertise. 🎛️🧩

Experience Productivity Mastery: Elevate Your GTD Game with InboxOS Today! 🚀✨
Streamline your productivity and conquer your to-dos like a pro with InboxOS. Elevate your GTD experience today!